Changes in UK Airport X-Ray Screening Equipment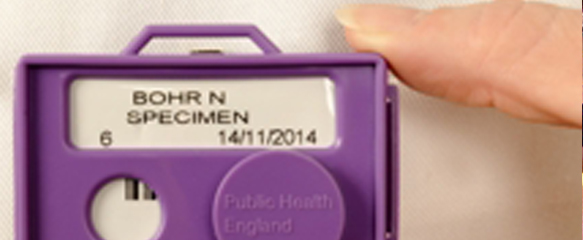 The United Kingdom Health Security Agency (UKHSA) have made us aware of changes in the technology that is being rolled out across UK airports and potentially international airports. The new type of X-Ray equipment, 3-D X-Ray Computed Tomography, being introduced to assist with passengers passing through security, permitting laptops and other sensitive technologies to remain in hand luggage and similar. This new type of X-Ray equipment is also going to be used for scanning luggage in aircraft holds and for air cargo.
Whilst this new 3-D X-Ray CT Scanners can enhance security and speed up passenger movement, the radiation exposure to any object passing through these new 3-D X-Ray CT Scanners will increase considerably compared to the current X-Ray scanners in use. Typically, any personal dosimeters issued by UKHSA (i.e. thermoluminescent dosimeters (TLDs)) passing through current airport X-Ray scanners would not register any significant dose (i.e. < 0.01 mSv) but the new 3-D X-Ray CT Scanners can result in TLDs receiving upto 2 mSv for every scan.
This elevated dose to TLDs will cause significant impact to most Employers requiring dose investigations to be carried out and potential attempts to make Special Entries to Classified Persons dose records with Approved Dosimetry Service (ADS).
It is important that going forward you do not put your TLDs in hold luggage, keep it in your hand baggage and when you arrive at security X-Ray scanners ask the security staff to not out it through the X-Ray scanner. Department for Transport (DfT) have made UK airports aware of the risk of exposure of TLDs and how security personnel can identify them. In the UK you should not have any issue in handing your TLD to the security personnel to check them without putting them through the new 3-D X-Ray CT Scanners.
If you are planning to travel outside the UK you may encounter problems in international airports, with one solution being to carry a transit TLD (only carried by the person during air transport) that the ADS can provide, hence any dose that the TLDs receives from the 3-D X-Ray CT Scanners can be subtracted from the TLDs that employees then wear when working with ionising radiations.
You should seek more advice as needed by your appointed Radiation Protection Adviser (RPA). L2 Business Consulting Limited are an HSE recognised RPA Body who can provide advice to Employers on the personal dosimetry and other matters under the Ionising Radiation Regulations 2017 (IRR17).